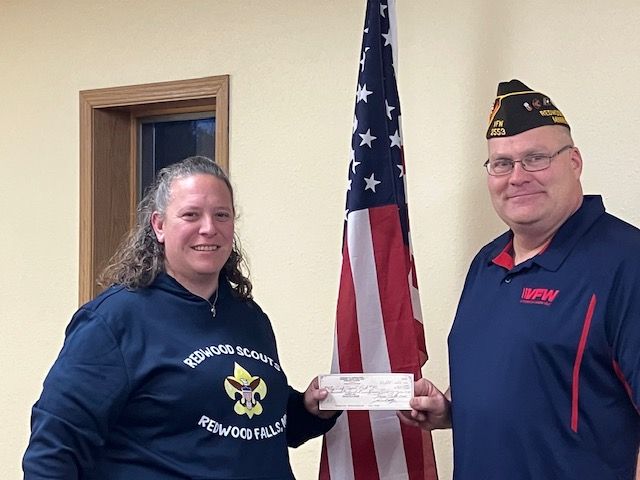 VFW Sr. Vice Commander Duane Frank presents a check for $3100 to Cub Scout Pack #42 Scout Master Amanda Keppers
The Veterans of Foreign wars is a national organization with over a million members. As an organization, the VFW strives to assist Veterans and their families, advocate on Veterans' behalf, promote the leadership of youth through scholarship programs, and affect change in their communities by serving their communities through service. Community service more than any other program is truly a grassroots, local Post level program that takes commitment, focus, and dedication.
During the month of September, the members at Redwood Falls VFW Post 2553 gave back to their community in two great ways. First Redwood Falls Post 2553 donated $3100 to Cub Scout Pack #42. This donation is a matching donation for funds that Cub Scout Pack #42 already rasied through their funraisers and will go to assist with charter fees and adult leader training. On top of this sizable donation, Post 2553 has entered into an agreement with the Boys Scouts of America to be the charting organization for Cub Scout Troop #42 and will be covering the cost for all of the 1st year Cub Scouts Uniform and training. materials.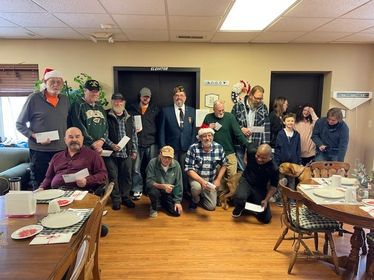 Residents of the Eagles Healing Nest
Redwood County VFW Post 2553 presented $100.00 in Redwood Chamber Bucks to each resident of Eagles Healing Nest. All 20 of the resident Veterans are from outside the Redwood Falls Area. Veterans will be able use the funds at participating businesses, helping them to become familiar with area businesses. The gift demonstrates Redwood County's VFW commitment to the VFW motto "No one does more for Veterans".